Guy Allen's Illustrations Showcased at Planète Mazda
May 03 2018, Planète Mazda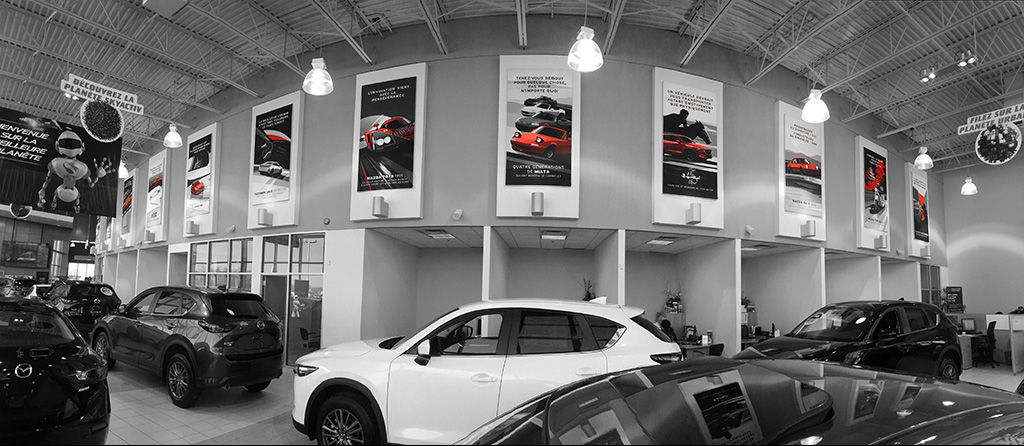 Our showroom now sports new banners deriving from illustrations that Guy Allen produced for Mazda. Shades of white, gray and Mazda's soul red crystal are used to highlight the values and some striking points of the Japanese car manufacturer.

THE 1945 TYPE GA
Determined to help rebuild Hiroshima after the Pacific War, Mazda president Jujiro Matsuda quickly distributed his tricycle trucks to deliver necessities.

THE 1967 COSMO
In a relentless pursuit of innovation, Mazda's team of engineers created the first mass-produced rotary engine car.

THE 1978 RX-7
Lightweight and fun to drive, the 1978 Mazda RX-7 was engineered for those with a passion for driving.

THE 1991 787B
Persistence and passion made Mazda the first Japanese automaker to win the 24 Hours of Le Mans.

THE 2017 MX-5 RF
THE MX-5 RF unites the innovation of a retractable hardtop with the timeless Miata legacy.

SKYACTIV TECHNOLOGY
The efficiency and performance of our SKYACTIV TECHNOLOGY are as uncompromising as the engineers who created it.

JINBA ITTAI
The profound feeling of driving a Mazda is inspired by Jinba Ittai, a oneness between horse and rider.

FOUR GENERATIONS OF MIATA
The MX-5 has captured the hearts of driving enthusiasts for four generations.

CRAFTED IN CLAY
Mazda clay modellers craft in clay and creative soul in motion.

HASHIRO YOROKOBI
Whether manual or automatic, sedan or SUV, every driver should feel Hashiro Yorokobi – "the joy from driving."

KIZUNA BONDS
Kizuna is a sacred bond between drivers, craftsmen, and the vehicles that unite them.

KODO DESIGN
Every curve and corner of a Mazda is inspired by our signature KODO "Soul of Motion" Design.